In 1997 when Cirlan Oliveira was fourteen years old, he and his older brother began building a clubhouse in the woods by their home. The space was on a steep little hillside had of the most breathtaking views of Rio de Janeiro. Cirlan spent a significant amount of time playing with his brother in this space because his parents did not want him to venture far from home. To build the clubhouse, boys used bricks that they would take from the construction workers in their neighborhood. The bricks used for construction are notoriously flimsy so much so that when chickens would knock them over and they would break them. Inspired by the architecture and colors around him, Cirlan began taking these broken bricks carving doors and windows into them and painting them in order to turn them into miniature scale homes. Collectively the young men built a miniature replica of their community acting out the lives of the characters within it. In the production of this space, the youth involved infused their own dreams, sense of humor, and critical commentary.
Twenty years later, as a student from New York City I was given the chance to frequent the clubhouse and the now 450 square meter space known as Morrinho, or "little hill." Morrinho sits at the top of one of the steepest hills in Rio inside the favela Pereira da Silva (used interchangeably with the name Pereirão) in the Laranjeiras neighborhood of the South Zone of Rio de Janeiro.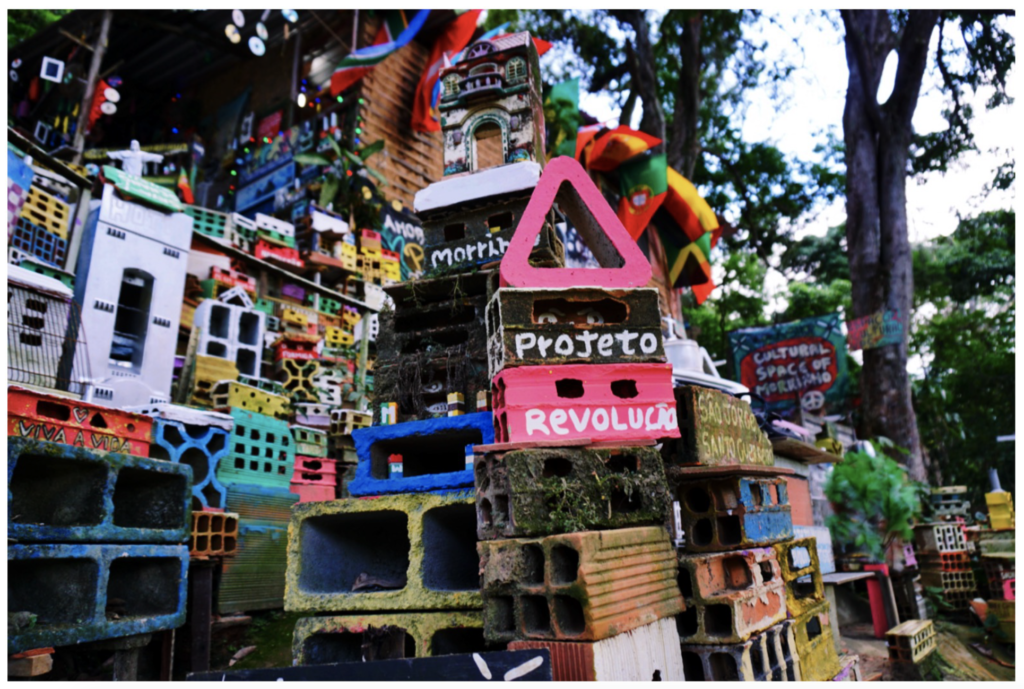 Over the years many youth and young adults from Pereirão have been involved as artists at Projeto Morrinho, being invested in authorship and innovations. Many of the artists who have been involved with Morrinho have used it as a jumping off point for careers in art curation, film production, and tourism. Today, Cirlan has a central role as the founder, as do more permanent members that I had the opportunity to work with, these are the artists that I worked with on a regular basis at Morrinho. Raneire, better known as Honey, is the sitting president of Morrinho, and he has been engaged with Morrinho for over 10 years, traveling as an artist around the world. Denise is the woman who keeps everything organized at Morrinho1; she manages day-to-day operations and leads tours in Portuguese. Savio is a graffiti artist and an artist at Morrinho; he is relatively new to the project. Over the course of three months I engaged with the artists and the space as a participant observer, spending about 120 hours of research. We worked together closely on building the website, fixing Morrinho, and filming a short film. During the time at Morrinho I engaged with the practices of Morrinho.
Morrinho has operates through for main themes:
Morrinho Social: their branch of social work including play as an alternative to involvement in the drug trade, language classes, and collaborations with other community organizations
Morrinho Tourism: the space operates as a tourist attraction for visitors to Rio, students from around the city, and anyone who is interested. If visitors chose to, they can participate in workshops and help build Morrinho.
Expo Morrinho: the artists at Morrinho have been invited to create versions of their work in various museums, communities, universities, and restaurants around the city, the country, and the world.
TV Morrinho: a creative form of cinematography and film production involving the bonecos (the toys that live in Morrinho) and ironic plots. TV Morrinho has also created a body of short documentaries, music videos, and a feature length film. The process is one that is participatory and involved media workshops and skills training.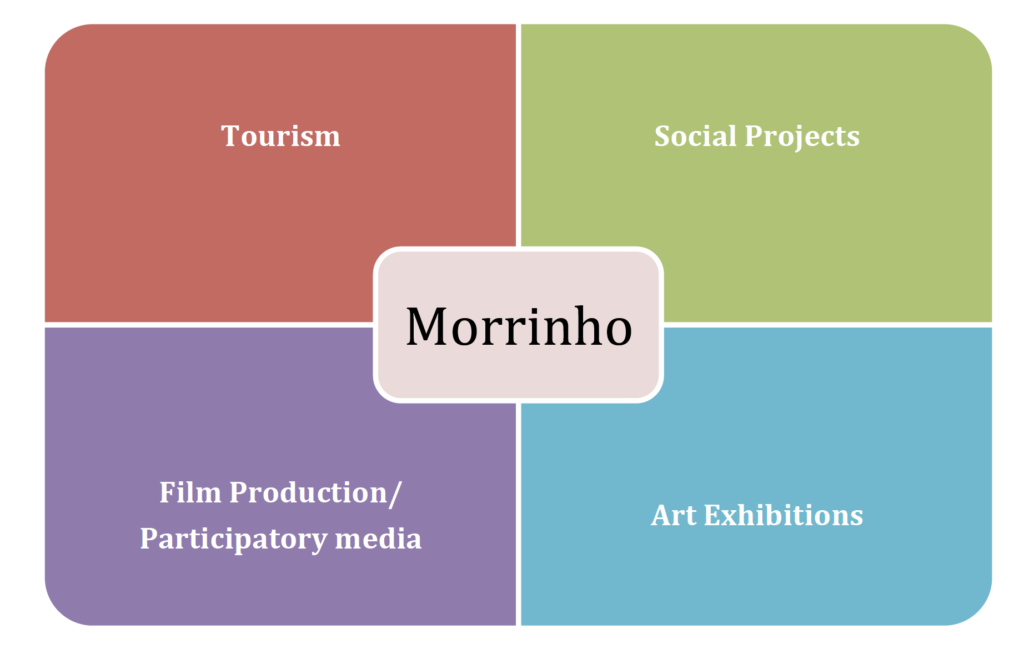 My purpose working within this space and the creators responsible for it was to collaborate on a twenty-year anniversary website to showcase their work. Much of this thesis is presented as an attempt to make sense of the political landscape in Rio de Janeiro through a discussion of organizational practices that I observed during my time with Morrinho. Building this site and working with them to package the content for the site and develop a better understanding of their work was as much a part of my methods as participant observation and engagement.  My core deliverable to them was this site. Much of the evidence that I will be drawing from comes from what I learned during the collection and reflection involved in the process of building this site.
I was in the city as a student from The New School as part of a summer-long program through the Graduate Program of International Affairs known as the International Field Program (IFP). Before I had been to Morrinho in person I had seen a film made in collaboration with the artists at Morrinho and the students from the IFP from two years before. Initially, I was confused by the images of small block toys with falsetto voices shooting guns and kidnapping and making political demands. Prior to traveling to Rio my professor said to me and the two other students involved in the project; "Sometimes we come back and everyone just thinks we were up in the favela playing with Legos."   What this thesis and website show is that while there is a lot of playfulness to that, there is much more going on than just a game at Morrinho. I understand why this project would be received as a simple game, for it is difficult to explain the meaning of something that is shaped by beauty, personal strife, and oppression. I have spent the past nine months since I have returned to New York City trying to make sense of this physical space and story that is not mine to tell.
The realization that I have ultimately come to is that this thesis is an exploration into how this specific site and the practices of Projeto Morrinho have emerged from a social-spatial divide in Rio de Janeiro as a political response. I use reflections about the practices and their influence on my understanding of Brazil as an international student, an outsider in a contested urban frontier. In an examination of history, personal narratives, events, and practices, I discuss how this sort of critical transformation is integral in a city famous for its inequality. To understand the entanglement between art and politics I focus on the functioning of this space and situate it into a larger discussion of arts and culturally based grassroots organizations and their role as new social actors in Rio de Janeiro.
The significance of Projeto Morrinho work is the fact that as a space and as artists, they are constantly challenging a dominant narrative, which refers to Rio de Janeiro as "a cidade partida", or the city divided. The city divided has become a way of thinking about spaces in Rio de Janeiro. The term describes a spatial divide that is created through the socioeconomic structure of the city of Rio de Janeiro where the favela and the other "formal" areas of the city are considered as separate spaces with different social classes, cultural groups and very limited dialogue between them. Scholars have been challenging this claim, arguing that the two spaces are intertwined and that the very psychological or social idea that this divide exists perpetuates unequal citizenship.
This thesis is primarily concerned with people and the meaning they attach to things in their lives, thus I chose a qualitative research approach. This is an inductive investigation in which I try to make sense of my own experiences in Rio and the stories from the people whom I encountered. I chose to use this research approach because it is essential to rewrite narratives in order to challenge hegemony, unequal power relations, and inequality. Narrative methods have been referred to as "real world measures for real life problems." Morrinho has evolved from a children's game to an internationally recognized contemporary artwork and a social organization with a defined set of practices. What can an investigation into the experiences of these participants and a developed understanding of their practices reveal about the current political and social milieu of Rio de Janeiro?
I began this research with a set of broader questions about Rio de Janeiro and the nature of citizenship. As I spent more time as a participant-observer during my research at Projeto Morrinho I began to focus on the more specific details about how people live and work. Research regarding reactions and alternative narratives need to be consistently reexamining because they are variable and subjective in meaning. This approach is likely to achieve the aims of my project because there are many factors that must be examined individually in order to make an overgeneralized statement about favelas.
How has a dominant narrative of "a cidade partida" manifested politically, socially and culturally in Rio de Janeiro and how does this affect the identity of those residing in spaces of differentiation?
How do citizens cope in response to unequal treatment?
What are a set of practices and principles can be drawn from Morrinho as a response to various mechanisms of exclusion?