The New School's vision states its aspiration to be "the preeminent intellectual and creative center for effective engagement in a world that increasingly demands better-designed objects, communication, systems, and organizations to meet social needs". We work to achieve this vision through academic experiences that help students become critically engaged citizens, dedicated to solving problems and contributing to the public good. This academic approach emphasizes collaborative, project-based and socially engaged learning and public scholarship focused on creating a more just, resilient and equitable society.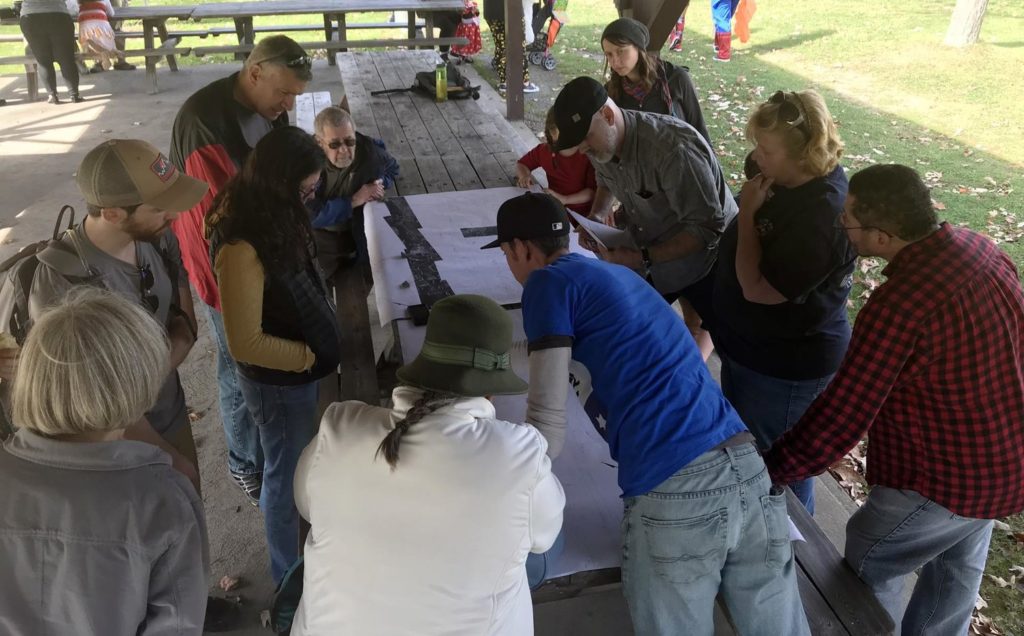 Project:  Visualizing Pipelines, partnership with Delaware Riverkeeper Network; Faculty: Jess Irish (Parsons) and Stephen Metts (SPE)
With the broad aim of supporting attainment of this vision the Collaboratory's objectives include:
Enhance understanding about how The New School and the broader academic community can foster meaningful, equitable, efficacious, and sustainable engagements with communities and external partners;
Provide diverse ways for our community to share, explore and create knowledge through public scholarship and socially engaged learning; and
Make these approaches to knowledge creation more visible for evaluation in an academic contextHere are some key highlights of the work of the Collaboratory since its inception:
Participatory Action Research: In 2014, the Collaboratory established a Community of Practice that included 48 participants and reflected an interdisciplinary constellation of programs. Through a cross-cutting analysis of a set of projects, the Collaboratory explored some of the challenges of and best practices for collaboration from the perspectives of all stakeholders, including communities, institutional partners, students, and faculty.
Collaboratory Digital Knowledge Hub:  In 2016, The Collaboratory Digital Knowledge Hub began to develop a multimedia platform and archive for socially engaged learning and public scholarship.  The platform showcases diverse representations of socially engaged projects, pedagogies, research and resources.
Fund for Multimedia Documentation: In 2017, the Collaboratory created a fund and workshops to explore and support diverse models for documenting public scholarship and engaged learning.
Collaboratory Symposium: In 2018,  we held the inaugural Collaboratory Symposium which brought our community together to examine pertinent themes and new approaches to creating a more just, resilient and equitable society through public scholarship and project-based, engaged learning.
The Collaboratory has evolved into a university-wide knowledge hub that brings together and supports a large community of engaged practitioners and scholars. The Collaboratory intends to continue its work enhancing socially engaged practice, deepening knowledge and increasing the impact of projects and scholarship across The New School.  We will do this through:
A visualization of the Collaboratory's strategy moving forward can be found below.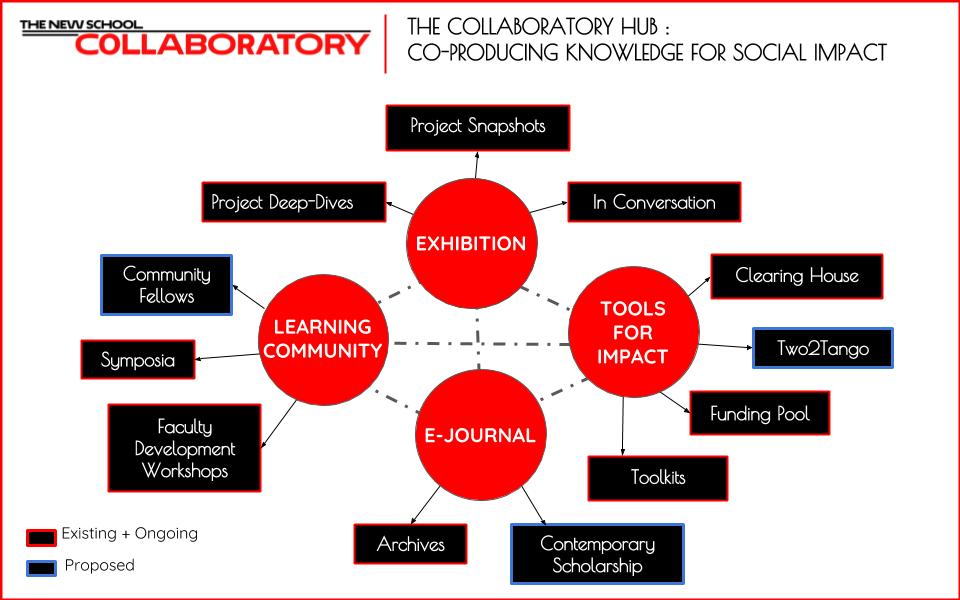 The Collaboratory has pursued diverse strategies and projects to achieve these objectives, as reflected in this framework:
SHOWCASING PROJECTS
A virtual exhibition space for the showcasing and examining projects, courses, labs and initiatives that exemplify engaged learning and public scholarship.
BUILDING COMMUNITY
A learning community that builds in-person collaborations and engaged learning practices through symposia, capacity building workshops and in-depth exchanges between faculty, students and community partners;
PUBLISHING SCHOLARSHIP
An e-journal to digitally publish original and cutting-edge scholarship on community engagement, and critically reflect on contemporary trends. This will also serve as a repository for existing and archival scholarly resources on the subject;
MAKING IMPACT
Tools for impact including sample lessons, syllabi, course catalogs, research reports, evaluation frameworks and toolkits that are actionable and can be used by faculty, students and community partners to create social impact using tested strategies.
More detailed description of these projects are described further in subsequent portfolio posts.