During the Spring 2018, the Schools of Public Engagement hosted the inaugural Collaboratory Symposium. The symposium's framing question was: "How might we advance The New School's legacy of challenging the status quo through socially engaged learning and scholarship?"  It engendered strong interest from faculty, students, alumni and community partners, with over 250 registrants.
The Symposium included a panel, roundtables and creative interactions to examine new approaches to creating a more just, resilient and equitable society through public scholarship and project-based, engaged learning. Over forty faculty, alumni and community partners co-led roundtable discussions, which were structured as informal storytelling sessions for facilitators to share their own socially-engaged projects, courses, labs or initiatives, and prompt dialogue at their table.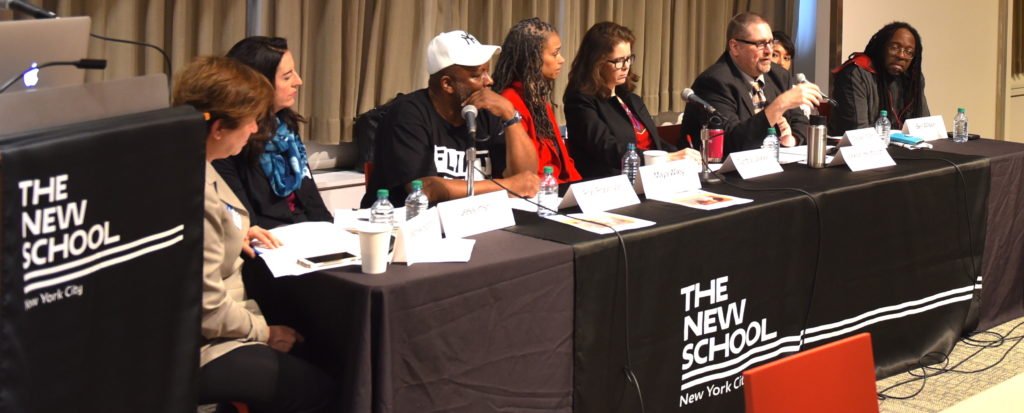 Panel at Collaboratory Symposium:  Michele Kahane (Faculty, SPE), Jess Irish (Faculty, Parsons), Rob Robinson (Community Activist), Maya Wiley (Faculty, SPE), Cynthia Lawson (Faculty, Parsons), Joseph Heathcott (Faculty, SPE), Masoom Moitra (Faculty, Parsons) and Ben Wilson (Institute for Transformative Mentoring
Roundtables were structured around the diverse themes: Education and Social Justice, Racial Equity and Access in the Arts, Creating Transformation through Public Dialogue, Community-engaged Social Ventures, Co-producing Knowledge through Public Scholarship, De-constructing Race & Power, Imagining Change with Youth Partners, Media and Technology for Public Engagement, Mobilizing for Environmental Justice, New Spaces for Civic Action, Participatory Design with Communities, Strategizing for Economic & Socio-spatial Justice, Preparing for Community Engagement, and Visualizing Data and Reality for Social Action.  These featured projects are dynamic, complex and intersecting, which is why we sought to bring them together to discover and reflect on the ways in which they might be in solidarity and even in tension with each other.
The take-aways from these roundtables included:
Understanding the significance of language & communication Acknowledging & addressing power dynamics while working in groups of diverse stakeholders
Identifying & strengthening partnerships/ resources within and outside university
Carrying forward a legacy of socially engaged learning, practice and scholarship
Measuring impact and evaluating the quality of community engaged projects and scholarship
Critically examining tools & methods for public engagement Addressing institutional barriers in order to create a supportive internal infrastructure
Rooting community-engaged work in ethics, values and principles that center equity and justice
Spaces and platforms for accessible discussions and dialogues around public engagement
A full report of the Symposium proceedings can be found here.