By Dana Rosati
First things first, let's get some simple definitions out of the way. Understanding Food supply chains is tricky to begin with and to understand this project, one must also understand what a food hub is and what value-based supply chains are (VBSC's)!
VBSC's, Value Based Supply Chains: Value-based food supply chains are distinguished from traditional food supply chains by the combination of how they differentiate their products (food quality and functionality, and environmental and social attributes) and how they operate as strategic partnerships (business relationships). Value-based food supply chains can be smart from both business and ethical perspectives.
Food Hub(s): Food hubs are an important mission-driven subset of food value chains, whereby the business or organization actively manages the aggregation, distribution, and marketing of source-identified products, primarily from regional and local producers to strengthen their ability to satisfy consumer, retail, and institutional demand.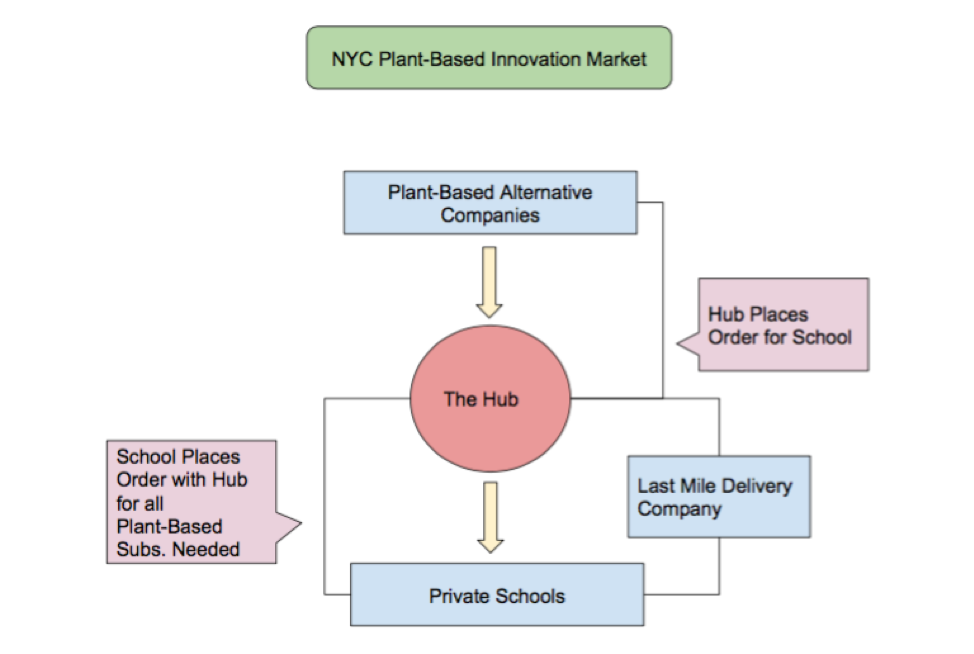 The opportunity to create this supply-chain plan with The Good Food Institute (GFI), is substantial in that it provides the ability to address the challenges within our national food supply by utilizing and mirroring the success of existing food hubs for fruits, vegetables, and traditional meat and dairy products. The niche market in which innovative ideas, such as plant-based alternatives, can be tested and developed is dependent on groups of committed consumers that can refine and promote consumption of plant-based products – in the case of this project, private schools.
For this project, I surveyed and spoke with 15 NYC-based producers of plant-based meat and dairy alternatives. Each of which was eager and excited to reach new local markets for their products! Although food hubs maintain the logistical mechanisms of getting local plant-based alternative products from producers to private school consumers, for this project, they cannot operate without leveraging supply-chains existing in the NYC urban foodscape. Piggybacking off of and leveraging existing VBSC's is beneficial for the both the private school consumers and the plant-based producers.  For local food innovators in the plant-based sector, competition by larger meat and dairy producers is still a major roadblock. Producers of alternative products benefit from following stringent value chain mechanisms, in order to withstand strong competition in the market. Forward integration within said value chains to help plant-based producers find new products is also an added benefit of leveraging VBSC's.
Both the private schools and plant-based food producers surveyed, voiced a desire and capacity to connect by way of the food hub and VBSC's model. The private schools surveyed illustrated an ease to work with new suppliers and a preference for locally sourced goods with a high value-add, like that of ethics and sustainability. Food producers are similarly eager to reach the educational food market, and can easily add new consumers into their existing supply chain models. By allowing "the hub" to handle the logical orchestration of the goods by facilitating the connection of the goods from point "a" to point "b," a successful localized hub can benefit both stakeholders, as the market demand is high.
The research completed provides a recommendation that sustains an equitable food hub model, via highly localized, plant-based alternative aggregation systems, to reach New York City's private school meal programs. Although other solutions to this problem may exist, this research targets one viable option.
Curious about how easy it is to incorporate these products into a delicious kid-friendly lunch? See this easy to make vegan pizza made with NYC produced plant-based alternatives.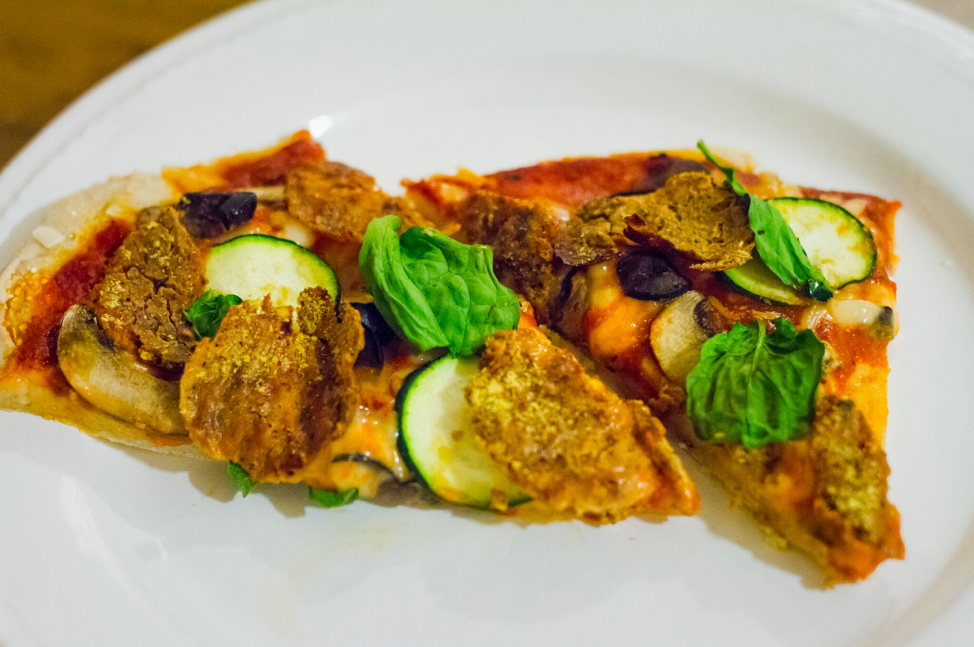 References:
King, Robert P., et al. "Comparing the Structure, Size, and Performance of Local and Mainstream Food Supply Chains." USDA Economic Research Service, vol. 99, Jun. 2010.
Matson, James., et al "The Role of Food Hubs in Local Food Marketing." USDA Rural Development, Service Report 73. January 2013.
Stevenson, G.W. "Values-Based Food Supply Chains: Strategies for Agri-Food Enterprises of the Middle." UW-Madison Center for Integrated Agricultural Systems, June 2013.