Boima Tucker
The New School (Alum)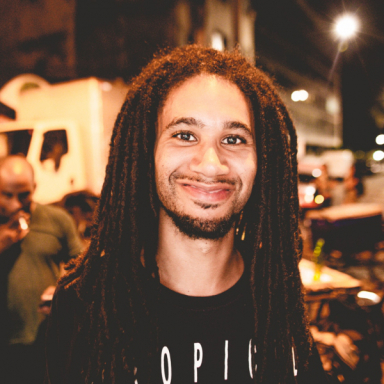 Profile
Boima is a Sierra Leonean-American music producer, DJ and writer. He is also the managing editor, podcast host, and music section editor of Africa is a Country.
Boima began his career as a professional DJ with a self-initiated travel stint to connect with like-minded artists around the world. Inspired by the parties he knew growing in a close knit African immigrant community in Milwaukee, his performances integrate a diverse array of global musical styles ranging from Coupé-Decalé, Cumbia, Kuduro, Champeta, and more. This would see him perform as a DJ at such esteemed locations as New York's Summer Stage, The Lincoln Center, The Red Bull Music Academy, SXSW, and Midem.
In 2015, Boima launched INTLBLK, a platform dedicated to his vision for music and culture out of the contemporary Black Atlantic. Focusing on a sound self-dubbed as Pan-Afro-Anarchist-Pop, INTLBLK launched with the single "Intermiténcia" from Ziminino, an electronic music, singer-songwriter, Afro-Brazilian roots project from Bahian artists Rafa Dias and Rico Satana.The single is accompanied by an Afro-House, Angola-inspired remix from Boima, making the mission behind INTLBLK explicit.
Boima has released original tracks and remixes via Brooklyn-based label Dutty Artz — and has produced songs for international artists such as Los Rakas, Black Nature of the Sierra Leone Refugee All Stars, and Sorie Kondi. While in the Bay Area he produced music with the groups Banana Clipz and Beaten By Them. And, in 2013 he initiated a new production group by the name of Africa Latina with New York's Geko Jones.
His travel experiences and global music expertise launched a writing career which has seen him contributing to various music and culture online and print publications (Ghetto Bassquake, Africa is a Country, WFMU Radio, and The Fader Magazine.) In recent years, he has been invited to speak on global youth culture and the intersection between politics and music at various institutions including The New School, Harvard, Yale, Dartmouth, the EMP Conference in New York, Womex in Thessaloniki Greece, Open Arti in Milan, Boston's Together Festival, and New York's Social Media Week. He currently is based in Los Angeles.
Contact
Featured Collaboratory Project