ITM Launch Party March 9th, 2017:
On March 9th, 2017 ITM held a launch party. This event was ITM's coming-out party. It was our chance to show the leaders in the field, what our program entailed. It included an opportunity for leaders in the field to network and culminated in a panel discussion about the Credible messenger movement and the role ITM can play in it. The panel was moderated by Rick Smith, the President of the Pinkerton Foundation.
ITM Social Justice Movie Night on May 5th, 2017:
The Institute for Transformative Mentoring (ITM) at the Center for New York City Affairs, in partnership with Humanities Action Lab and Public Square Media, hosted a screening of RIKERS: AN AMERICAN JAIL.
The New York City Mayor and City Council recently endorsed a plan to close Rikers. Join us to explore what Rikers means for the more than 7,500 people detained at Rikers Island on any given day. RIKERS: AN AMERICAN JAIL, a riveting new documentary from Bill Moyers, brings you face to face with men and women who have endured incarceration at Rikers Island.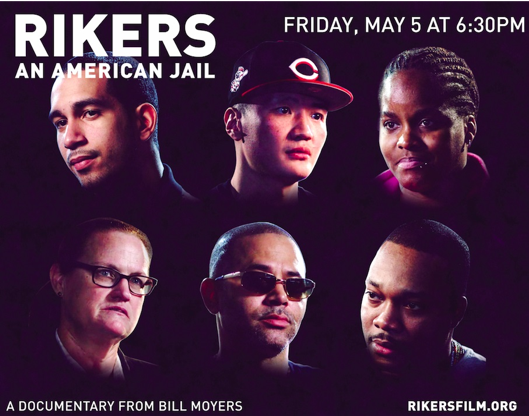 The film was followed by a discussion with participants in the film and other men and women who have experienced Rikers. They talked about the urgency of closing Rikers and the many changes required to ensure the jail and the systemic cruelty it represents truly end.
The discussion was moderated by Glenn E. Martin, President and Founder of JustLeadershipUSA (JLUSA) and member of The Independent Commission on New York City Criminal Justice and Incarceration Reform.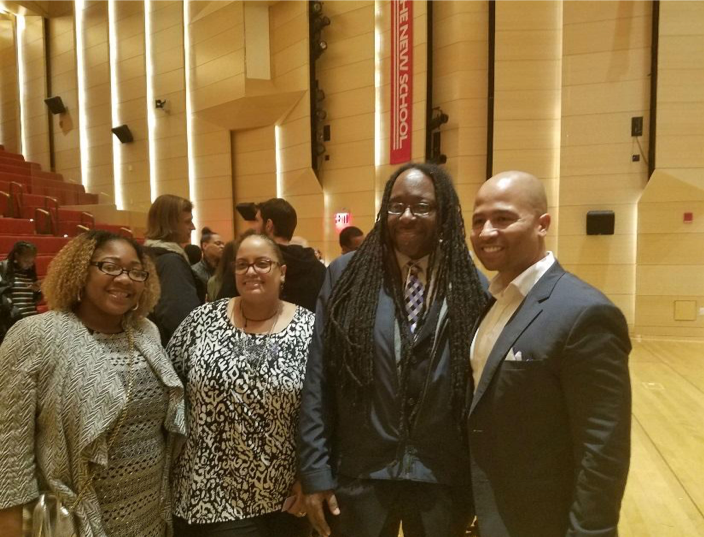 ITM Social Justice Movie Night on November 14th, 2017: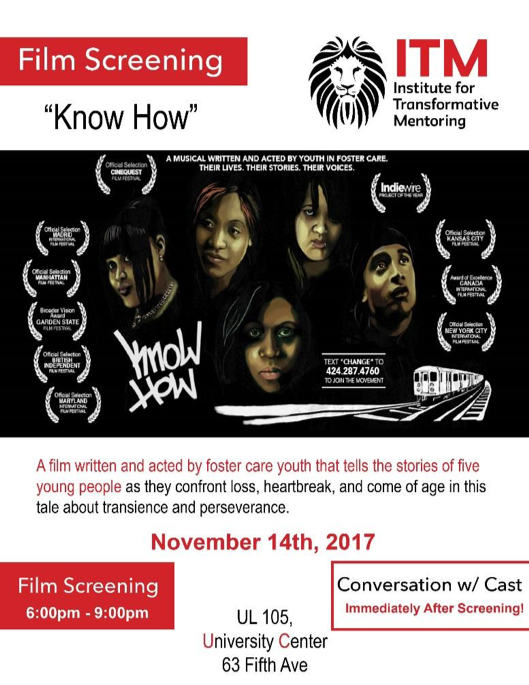 On November 14th, 2017, ITM hosted the screening of "Know How" in partnership with the Possibility Project. The Possibility Project brings together vastly diverse groups of teenagers who meet 6-7 hours weekly for nine months. They engage in a social/emotional learning (SEL) experience focused on social justice that uses the performing arts to examine and address the personal and social forces that shape their lives and identities. Through the creative process, they work together to write and perform an original musical from the stories of their lives and their ideas for change, creating a theatrical roadmap for change.
This film was created by adapting the original play written and performed by the youth in the program.
Following the screening, two of the writer/actors of the film joined us for a discussion about the film and the state of the foster care system in New York.