STEAM PUNKS
2014 New Challenge Winner
Kristen Kersh, Design & Technology, Parsons The New School for Design
Mehdi Salehi, Design & Technology, Parsons The New School for Design
STEAM Punks was created in response to the personal experience of Mehdi Salehi, a political refugee from Afghanistan, along with the realization that there is currently little opportunity for children in Afghanistan to receive an education beyond basic reading, writing, and mathematics. This set of kits and workshops is designed to help young people in Kabul explore technology and design through making by sparking imagination and creativity.

HOW MIGHT WE PROVIDE AN EDUCATIONAL EXPERIENCE THAT SUPPORTS THE DEVELOPEMENT OF CRITICAL AND CREATIVE THINKING SKILLS TO YOUNG AFGANS WHO LIVE IN KABUL?
In order to address this problem, we began researching the current development opportunities for young Afghans in Afghanistan. We found was that a large part of the population (64%) as of 2014 was under the age of 24 and that despite the high demand for public education there is currently little opportunity to receive an education beyond one that includes basic reading, writing and mathematics.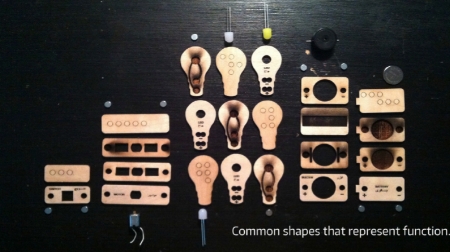 In an attempt to support the development of the next generation of Afghan leaders the STEAM Punks project was created.
The STEAM Punks project aims to shift the pedagogical approach from rote memorization to include a focus on the development of creative and critical thinking skills. The STEAM Punks project is composed of a complete eco-system that aims to train teachers, support inquiry into design and technology, and promote learning through making.  A low barrier of entry to this system is the use of STEAM Punks kits and educational workshops.
STEAM Punks' kits allow for children in Kabul to explore technology and design through making. These electronic kits support the development of critical thinking skills, creativity, curiosity and most importantly to ask 'what if'. 'What if' means for children to imagine and accomplish what might currently feel impossible.
THE KITS
There are two types of kits. The Explorer kit provides a basic entry point to exploring simple circuits. The kit includes one basic instruction set and project cards which use no words. This kit is for children ages 6-12.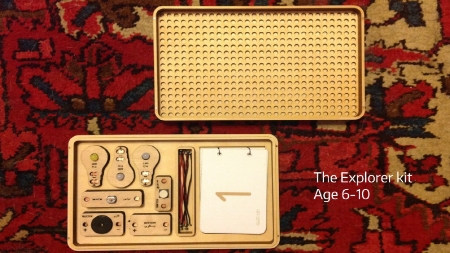 The Lamps for Learning kit was initially developed for ages 14-18 in partnership with the School for Leadership Afghanistan (SOLA) in Kabul. The goal of this kit is to allow for students to gain the basic skills and knowledge to develop their own designed lamp through the use of raw materials.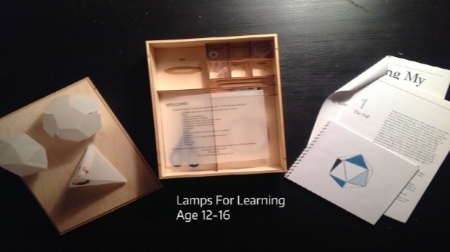 We recently have returned from the first pilot in Kabul this past January. During this trip we were able to speak with important partners, explore the current education system and speak with afghan youth.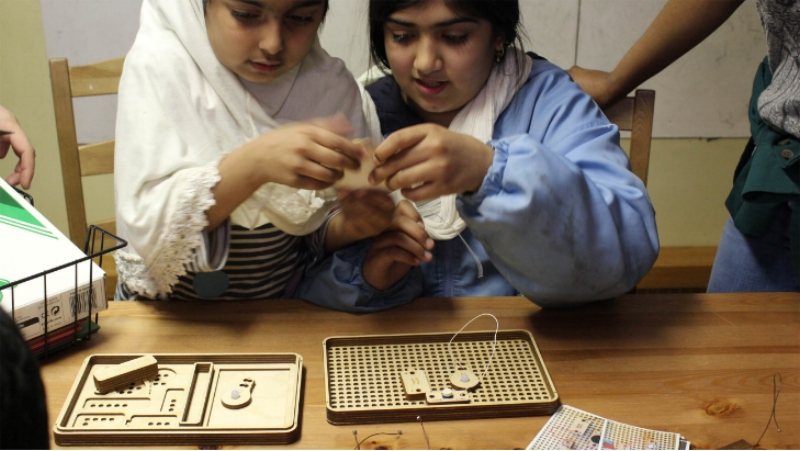 We also were able to test the efficacy of the lamps for learning kit the explorer kit and run workshops, which involved teaching children about aerodynamics through the introduction of small commercial drones.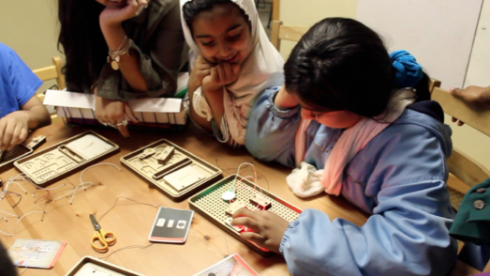 Watch the video below to learn more about STEAM PUNKS:
SteamPunks_v1 from Kabul Design on Vimeo.
VISIT THE STEAM PUNKS WEBSITE