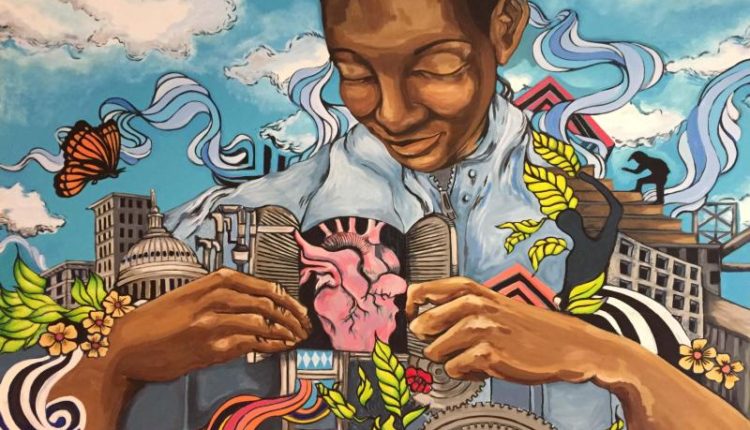 Our American Narrative Continues
Location: Ellis Island Museum Library, Ellis Island New York, NY 10004
Neighborhood:  Ellis Island
Program: Teen Empowerment Mural Apprenticeship (TEMA)
Theme: Immigration
Year: 2015
Partner(s): National Park Service
Funder(s): National Park Service, Altman Foundation, Ethel and W. George Kennedy Family Foundation, Lambent Foundation, Milton and Sally Avery Arts Foundation, Pinkerton Foundation, Sills Family Foundation, Variety The Children's Charity of New York, New York State Council on the Arts, New York City Department of Cultural Affairs
Lead Artist(s): Danielle McDonald
Assistant Artist(s): Adan Palermo
Participants: Noor Ain, Ranin Ali, Shakeema Cox, Walter Euceda, Sheray Goday, Isaiah Haigler, Nathaniel James, Glendon Jones, Stefan Leeke, Mei Jia Lin, Tiffany Moore, Oluwatobi (Tobi) Oniyinde, Angel Pena, Violet Ponce, Yafeu Raiford, Lizette Reyes, Eden Russo, Isaiah Sandy, Shechem Scott, Fnu Shohag, Sundiatta Small, Andley Tyson, Gabrielle Zahuatitla
Medium: Acrylic on Plywood
Dimensions: Six panels, two 7 x 5 ft and four 6 x 6 ft
ABOUT THE MURAL
Created for public display at Ellis Island, "Our American Narrative Continues" is a six-part mural panel series celebrating the rich history of immigration to the United States.
As part of Groundswell's Teen Empowerment Mural Apprenticeship (TEMA), Groundwell's youth artist team was amazed to discover that nearly 12 million immigrants poured through Ellis Island between 1892 and 1954. During their research, they learned that more than 12 million immigrants entered the United States through Ellis Island, the nation's chief gateway during the years 1892 to 1924. The students explored the public dialogue about immigration today, and asked themselves if America is still a nation which embraces its history as a country built by immigrants.
The panel series is split between a historic narrative, which illustrates the journey to and through Ellis Island, the immigrant identity during the early 20th century, and the historic notion of the American Dream, and contemporary panels, which explore the process to become an American today, the fragmented identify experienced by many current immigrants, and the notion of the American Dream in the 21st century. The historic panels have an aged, sepia-toned aesthetic, balanced by the vibrant, vivid color palette of the contemporary ones. Throughout the mural design, a butterfly motif suggests that freedom and migration is both essential to the human experience and beautiful and natural.
Ultimately, viewers of the panels are invited to question how the treasured notion of the American Dream, where once hard work gave the promise of personal achievement and success, has given way to one rife with challenges, obstacles, and barriers to success for new immigrants.
Learn More:
Download educational curriculum (pdf)